chakra worry beads // gemstone bead and tassel string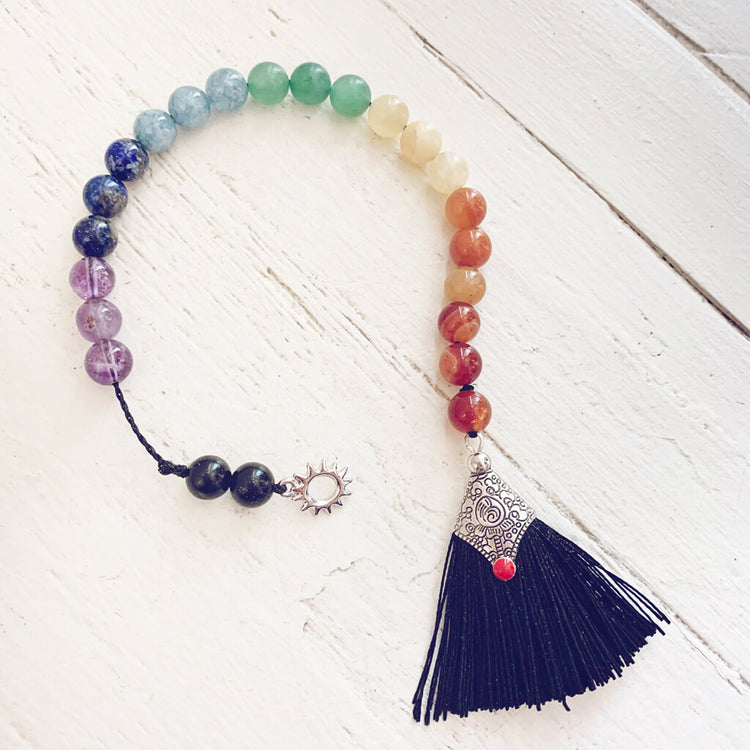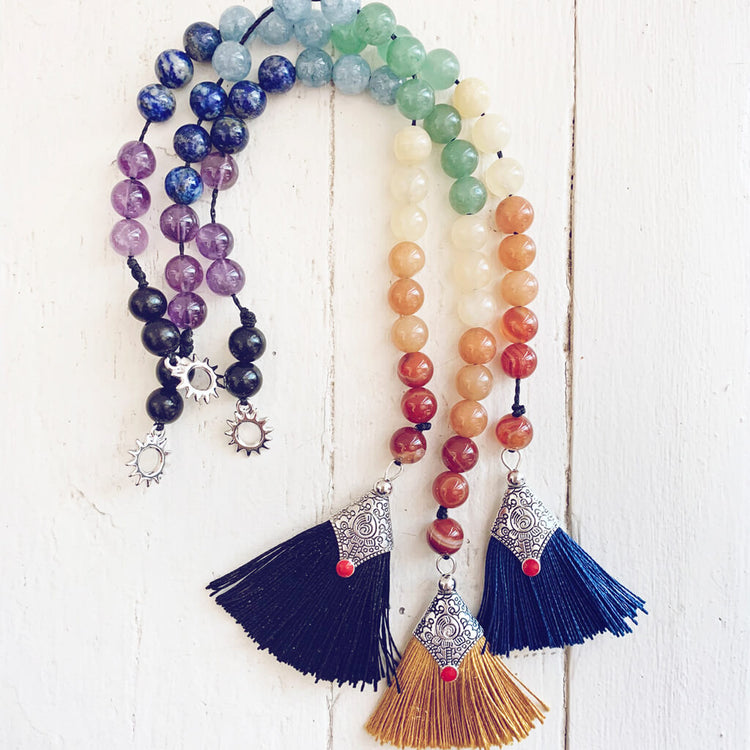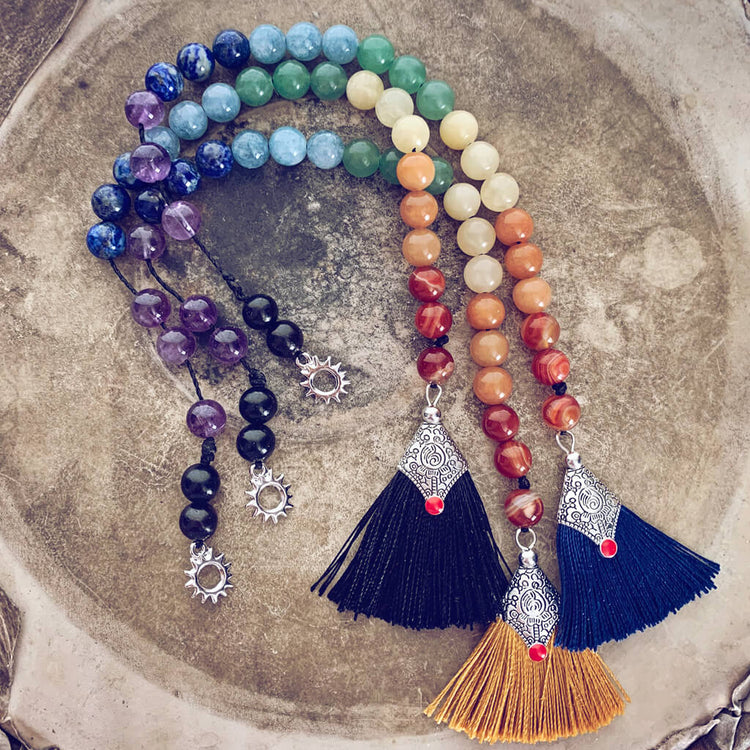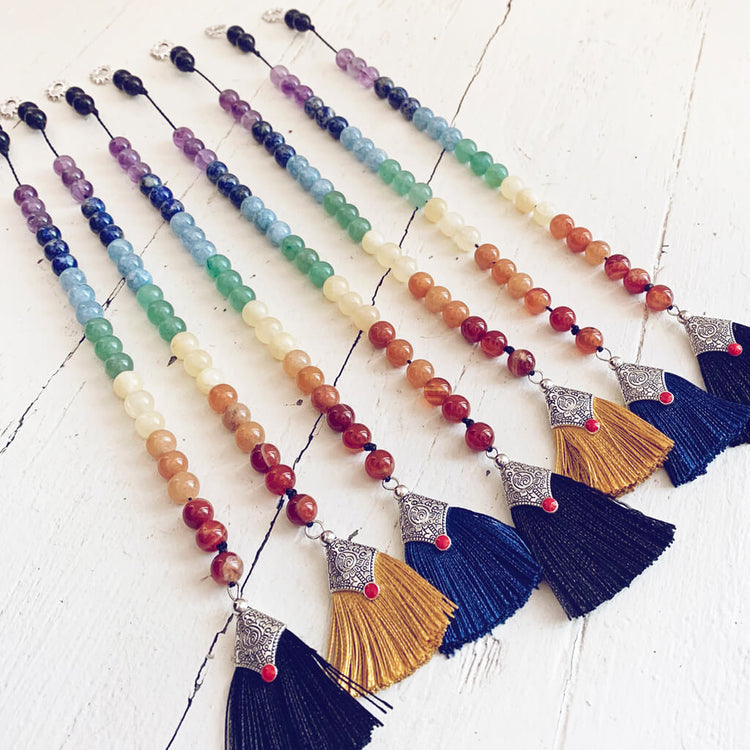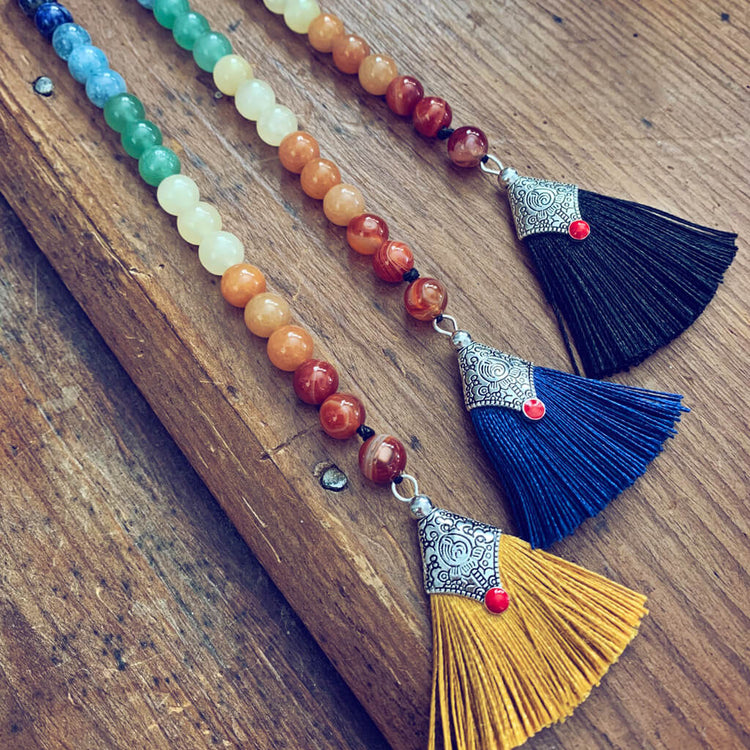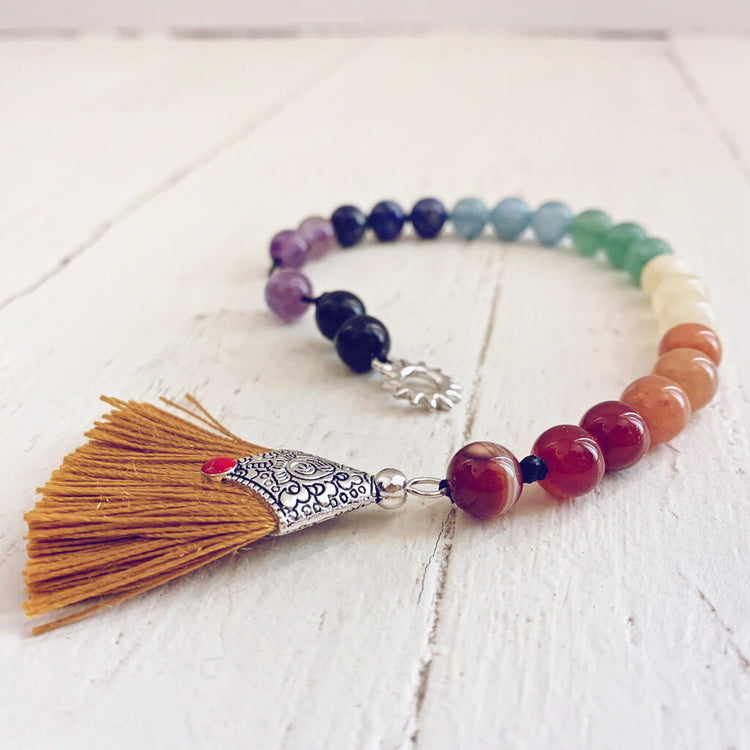 Product Details
Similar to the Greek Komboloi (worry beads), this chakra worry bead string is our version of the calming, stress reducing practice.
While worry beads have no specific religious or ceremonial purpose, the Ancient Greeks realized that the methodical moving and rhythmic clicking of each bead slipping over the fingers helps take the mind off of worries, welcoming relaxation, easing tension, anxiousness, calming busy minds, and helping to create more focus.
Worry beads can be used by sifting the beads through the fingers and palm of the hand, systematically one by one. 
Starting at one end (usually the bottom/tassel end with the fixed bead), and using the thumb and index finger to pull the thread forward, bring each bead over one at a time and allow it to fall onto the previous one. Repeat until all of the coloured chakra beads have been tipped into the palm, after which, turn over and start the process again with the black sandalwood beads in the palm.
Alternately, hold the sun charm end between the thumb and index finger, with the string of beads in the palm of the other hand, and gently pull down on the string allowing the beads to cascade over the second hand one by one, clicking each bead as it falls into place.
Playing with worry beads in any manner, whether sifting, flipping or doing tricks with them, can help alleviate stress and anxiety.
Great for when life becomes too fast-paced, scattered or stressful. Carry in your pocket/purse or hang in your car to always have nearby.
As an added bonus, this worry bead string features gemstones used in balancing the 7 chakras; 
Carnelian for the

 

Root

 

chakra

Red Aventurine for the

 

Sacral

 

chakra

Yellow Jade for the

 

Solar Plexus

 

chakra

Green Aventurine for the

 

Heart chakra
Blue Quartz for the

 

Throat

 

chakra

Lapis Lazuli for the

 

Third Eye

 

chakra

Amethyst for the

 

Crown

 

chakra

along with 2 black sandalwood beads