The "Synergy" men's leather & pewter bar cuff bracelet being worn by actor Gabriel Byrne in the Matt Bissonnette Film "Death of a Ladies' Man", theatrical release January 2021
See the Synergy bracelet here!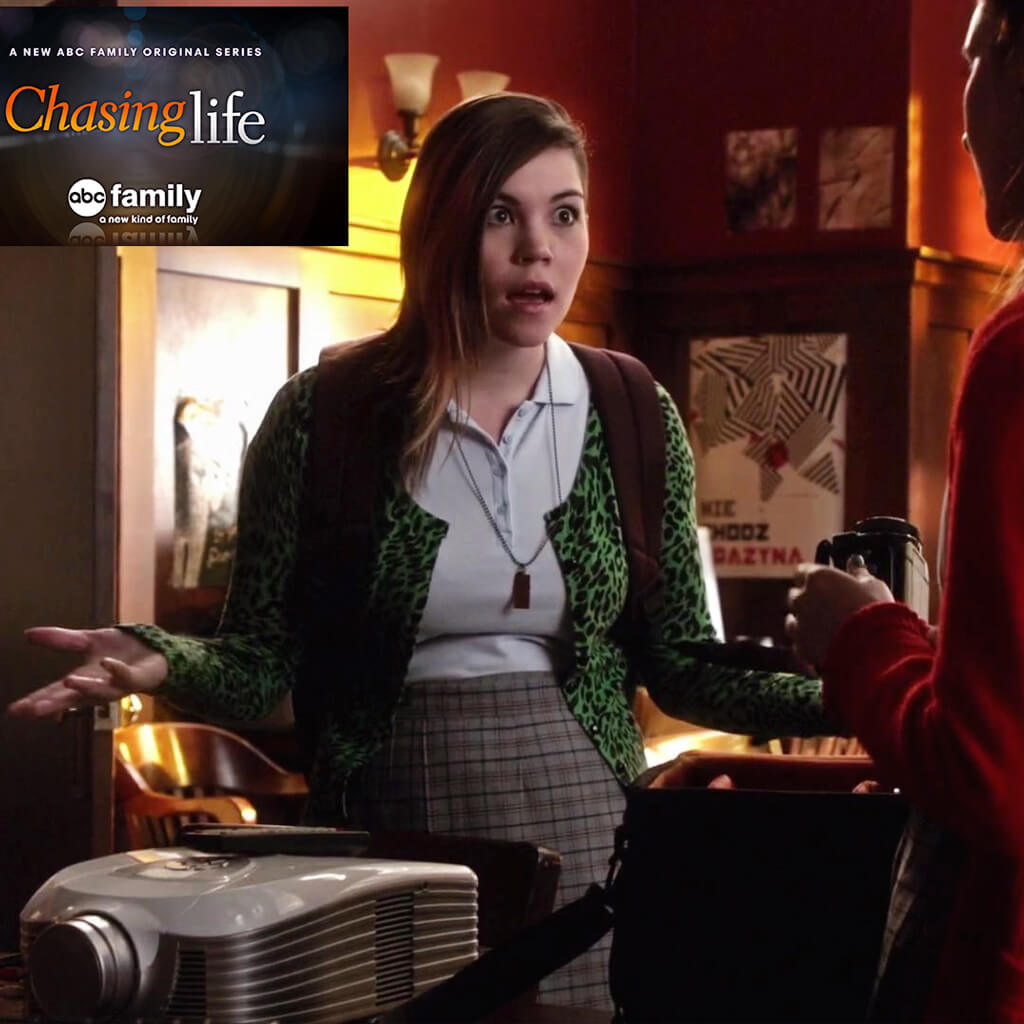 The "Be Fearless Be Strong" necklace design being worn by actor Tahlena Chikami (Erika) on ABC Family's television series "Chasing Life", in Season 2, Episode 1 - "A View from the Ledge", original air date 7/6/15.
Check out the necklace here!
Print & Publications ...
Edify Magazine September 2022

• featured - For the Free Spirit - Jewellery that makes wishes come true

Final Issue of Beadwork Magazine Celebrating 25 Yrs of Beadwork Fall 2021

• under an amethyst moon - carved amethyst gemstone crescent moon necklace

Edmonton Made Gifted Catalogue Sept 2019

• the Mountains are Calling - mixed media hand stamped necklace
more...
Beadwork Magazine

Beadwork Magazine Oct/Nov 2019

• black sea - bracelet set of 3 featuring gemstones, natural brass and czech glass

• mystic mandrake - rough gemstone, czech glass bead and aged pewter necklace


Beadwork Magazine June/July 2019
• timberline wrap bracelet - rustic mountain leather & bead wrap bracelet

Beadwork Magazine April/May 2019
• busy as a bee - geometric honeycomb & lampwork bead necklace

Beadwork Magazine Dec 2018/Jan 2019
• under an amethyst moon - rough cut amethyst crescent moon necklace


Beadwork Magazine June/July 2018
• boho bouquet - glass orb pressed flower necklace

• stitched with love - steampunk sewn heart necklace

Beadwork Magazine Oct/Nov 2017

• fiesta choker and global tassel necklaces

Beadwork Magazine August/September 2017

• mens leather set - compass and arrowhead charm necklaces

Beadwork Magazine, June/July 2017

• book of spells necklace & matching earrings


Beadwork magazine, April/May 2017

• madagascan sunset necklace & earrings

Fast & Fabulous Pattern Packs

Fast & Fabulous Spiritual + Inspirational Pattern Pack - Beadwork Oct/Nov 2019

• black sea - bracelet set of 3 featuring gemstone, natural brass and czech glass


Fast & Fabulous Inspired by Nature Pattern Pack - Beadwork June/July 2019

• timberline wrap bracelet - rustic mountain leather & bead wrap bracelet


Fast & Fabulous Geometric Shapes Pattern Pack -Beadwork April/May 2019

• busy as a bee - geometric honeycomb & lampwork bead necklace


Fast & Fabulous Rough Gemstones Pattern Pack Beadwork Dec 2018/Jan 2019
• under an amethyst moon - rough cut amethyst crescent moon necklace


Fast & Fabulous Modern Romance Pattern Pack Beadwork June/July 2018
• boho bouquet - glass orb pressed flower necklace

• stitched with love - steampunk sewn heart necklace


Fast & Fabulous Southwest Jewelry Pattern Pack Beadwork Oct/Nov 2017

• fiesta choker - colourful glass bead & micro fibre cord lariat/choker

• global tassel necklace - colourful handmade tassel & coin necklace


Fast & Fabulous Leather Pattern Pack   Beadwork August/September 2017

• mens leather set - compass and arrowhead charm necklaces


Fast & Fabulous Metal Stamping Pattern Pack   Beadwork June/July 2017
• book of spells necklace & matching earrings



Fast & Fabulous Spring Projects  Beadwork April/May 2017

• madagascan sunset necklace & earrings

Other Publications

Jewelry Affaire magazine, April May June 2017

• oh snap, just be and bling arrow necklaces - 3 page spread


Jewelry Stringing magazine, Winter 2017

• gypsy free spirit necklace

• beading on a shoestring article - hoot owl necklace​ 


Jewelry Stringing magazine, Summer 2016

•the mountains are calling necklace 

Craft Industry Alliance Journal, April 2016

• included in article; Making Consignment Work for You 



Jewelry Stringing magazine, Spring 2016

• in good hands talisman necklace
• from the heart bracelet

Jewelry Stringing magazine, Winter 2016

• not all those who wander are lost luggage tag
• home is wherever i'm with you keychain
• canadian penny leather & lampwork wrap bracelet
• copper domed earrings

Create Jewelry: 101 All New Designs, 2015
• watercolor boho wrap bracelet set tutorial 

Jewelry Stringing magazine, Summer 2015
• lovestruck arrows necklace  


Beading Daily online webinar, March 2015 

• The WOW Factor: Designing an Effective Branding Strategy 

BeadStyle magazine, January 2015 
• included in article; String & Sell, Since You Asked ..   

Jewelry Stringing magazine, Winter 2015
• wish upon a star necklace
• sing a song of sixpence bracelet
• butterfly raindrops earrings 

Create Jewelry 2014  (101 Bracelets, Necklaces & Earrings)
• ​​cucumber crisp - earrings tutorial 

​Jewelry Stringing magazine, Summer 2014
• ​​​​stylish stackables - wrist wrap trio of bracelets 

​Jewelry Stringing magazine, Summer 2013

• ​​​​riveted necklace tutorial, and jewelry artist feature on designing effective branding & packaging​ 

​Jewelry Stringing magazine, ​Spring 2013
• ​bracelet design inclusion