harmony // water drops lava bead wrist mala bracelet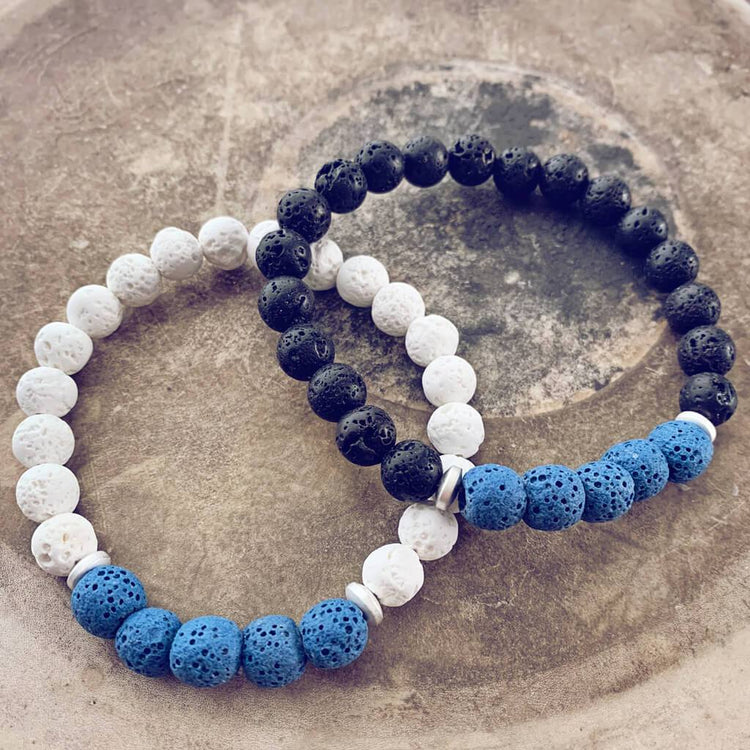 Product Details
This bead bracelet is made with genuine lava & pumice stone beads, 5 center (dyed) blue lava beads, matte plated silver hematite beads and stretch cord to slip over the wrist.
Each bracelet has a 6-3/4" inside circumference when laid flat / un-stretched, and will stretch to fit wrist sizes ranging from approximately 6-1/4" - 7-1/4". 
Why 5? The intent is that each bead represents an energy ... strength, balance, confidence, happiness and love 💜

Perfect harmony.
Lava beads are naturally porous and will absorb essential oils.⁠⠀

⁠To use as an essential oil diffuser necklace or bracelet ...
• Place a few (1 – 3) drops of your favourite essential oil directly onto the bead, rub with your fingers and let sit for 5-10 minutes to allow the oils to fully absorb into the bead. Refresh as needed. ⁠⠀
 
* please note - it is recommended to use clear oils with white lava stone beads as pigmented essential oils (such as those containing orange or blue) may temporarily stain the white stones. This will eventually fade, but a slight hint of colour may linger on.


 
Lava properties

Lava Rock has been admired for its healing properties for centuries. It is known for being a grounding stone, one that can balance the emotions and bring about calmness and strength. It's believed to help keep tempers in check and also help its wearer to work through problems in a logical way.
 
Lava is also known for stabilizing the root chakra because of its strong connection to the earth and its creation within its center. A stabilized root chakra makes one feel safe, anchored and more positive.


Hematite properties

Hematite is considered a very protective stone, one that can help to stay grounded in many situations, and that is used to absorb negative energy. It is believed to help calm in times of stress or when having difficulty focusing energies.
Hematite is also good for working with the Root Chakra, helping to transform negative energies into a more positive vibration.