let your spirit soar // leather and steel wrap bracelet cuff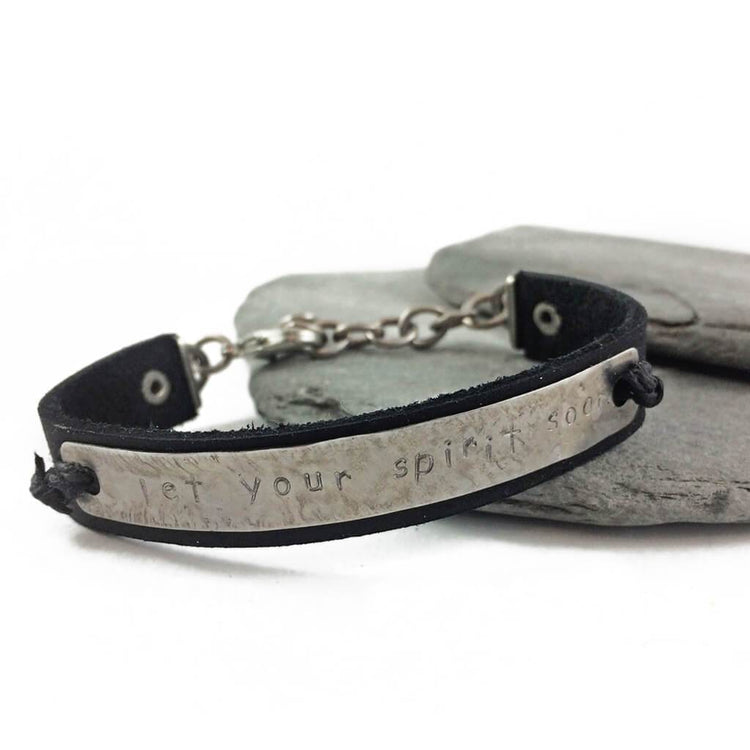 Product Details
"Let your soul take you where you long to be...Close your eyes let your spirit start to soar, and you'll live as you've never lived before."
~ Erich Fromm
The hammered & marked metal steel tag on this bracelet is hand stamped with the reminder to "let your spirit soar" 

The black leather portion of this bracelet measures approximately 5 1/4" without the clasp (approximately 8" with the clasp & chain extension), and will wrap nicely around an approx 6 1/4" - 7 1/4" wrist. It is adjustable thanks to the extra chain - simply clip the clasp on as tightly as desired.

An urban piece that can be worn everyday - and looks fantastic on it's own, or with other bracelets to create a layered look!! Looks even better with age .... perfectly imperfect.

Please note that each piece of metal is unique and may have different colorings/ markings than exactly as shown, and due to the nature of handmade - the handstamped lettering may differ slightly from the above photos.

This listing is for one bracelet only.