not all those who wander // leather luggage tag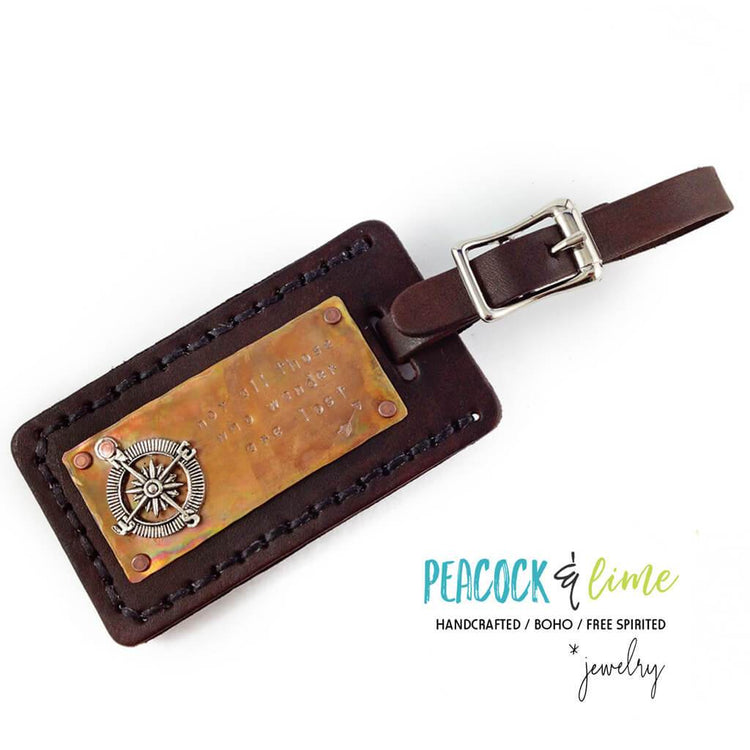 Product Details
A dark brown leather luggage tag ... perfect to take on your next adventure!
The main body portion of this tag is hand stitched using waxed cotton, and measures approximately 2-3/8" x 4". It has a matching leather strap and metal buckle to easily attach to one's bag, purse, briefcase or luggage.
The handstamped copper plate is flame kissed to give it the beautiful and unique colourings, and is riveted on to the leather tag itself. It also features a riveted silver coloured compass charm.
* As seen in Jewelry Stringing magazine
Form and function combined! 
Please note that each piece of copper is unique and may have different colorings/ markings than exactly as shown - also, due to the nature of handmade ... the handstamped lettering may differ slightly from above photos.

This listing is for one luggage tag only, as shown in the first and last photo.
"All that is gold does not glitter,
Not all those who wander are lost;
The old that is strong does not wither,
Deep roots are not reached by the frost."
~ J.R.R. Tolkien