serpent // copper electroformed snake pendant necklace with angel aura quartz crystal
Hurry, only 1 item left in stock!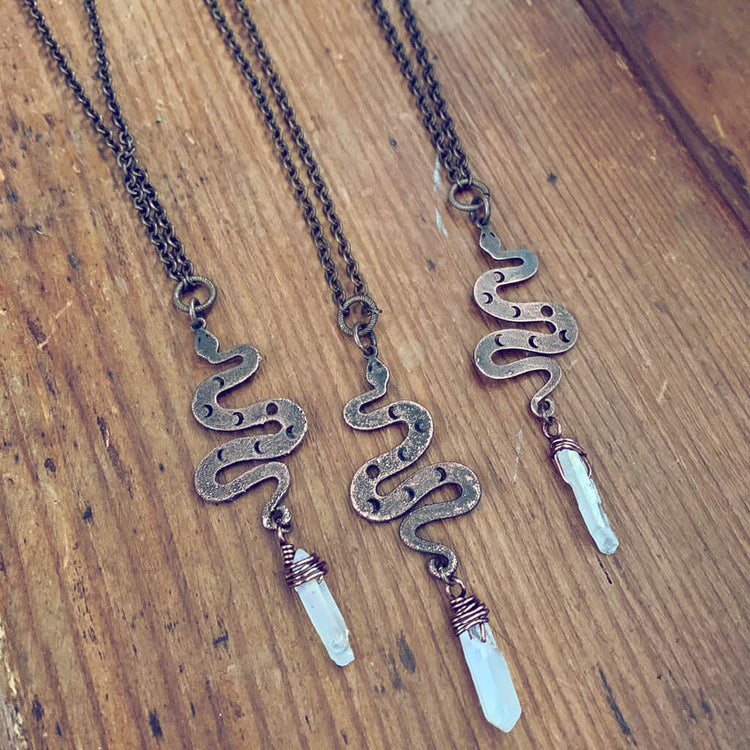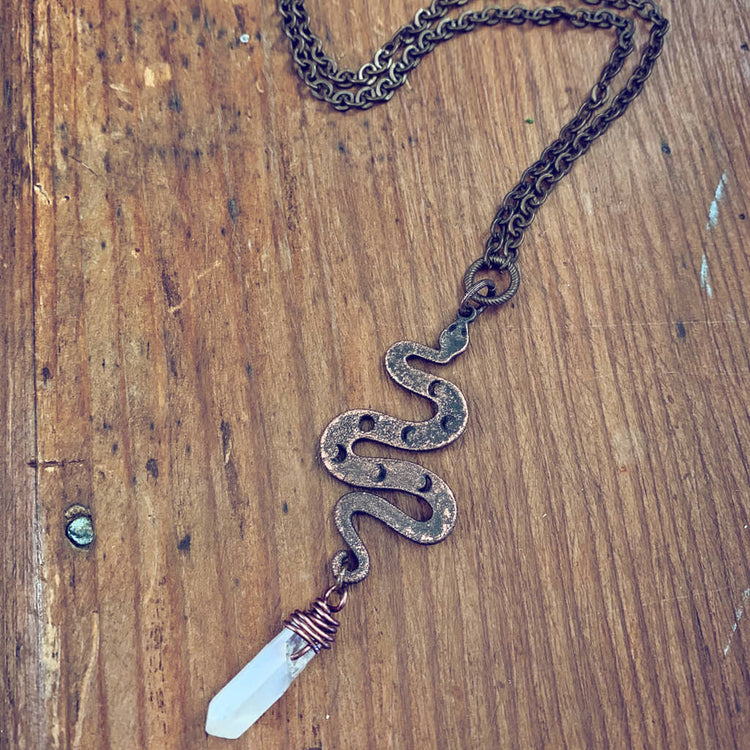 Product Details
Just as a snake is ever-changing with its ability to shed its own skin (representing renewal and rejuvenation), so too can you redefine your own style, and this copper electroformed serpent pendant necklace is just the piece to symbolize that transformation. Featuring a snake pendant with different phases of the moon on its body, and an angel aura quartz crystal dangling from its tail, this organic electroformed piece combines art + alchemy + metaphysics + science. The angel aura crystal, whose appearance conjures feelings of ethereal realms & otherworldly wisdoms, is thought to help one find the strength and resolve to release what no longer serves them, so whether you are ready to embrace big changes in your life, or just want to shed old styles & revamp into new ones, this necklace will help complete your look.

pendant measures approx. 3" (7.6 cm) long from the top of the snake's head to the bottom of the crystal point - 3-1/2" (8.9 cm) if including the two rings
antiqued copper chain measures approx. 23-1/2" (59.7 cm) and has a hook clasp
angel aura quartz crystal dangle
each necklace is unique and variations will occur 
Electroforming is a slow, intricate process where copper particles are deposited onto another object using a low voltage electrical charge. The intended piece is painted with a conductive medium and suspended in an electrolytic solution for between 12 - 24 hours allowing the copper ions to coat a thick layer onto the original piece. It is then removed from the solution, polished, can have a patina applied and then sealed.

The results are beautiful, organic and unique to each piece. No two pieces will ever be identical even if created under the exact same conditions at the same time.