umbra // antiqued half moon, sunburst & crescent moon boho brass necklace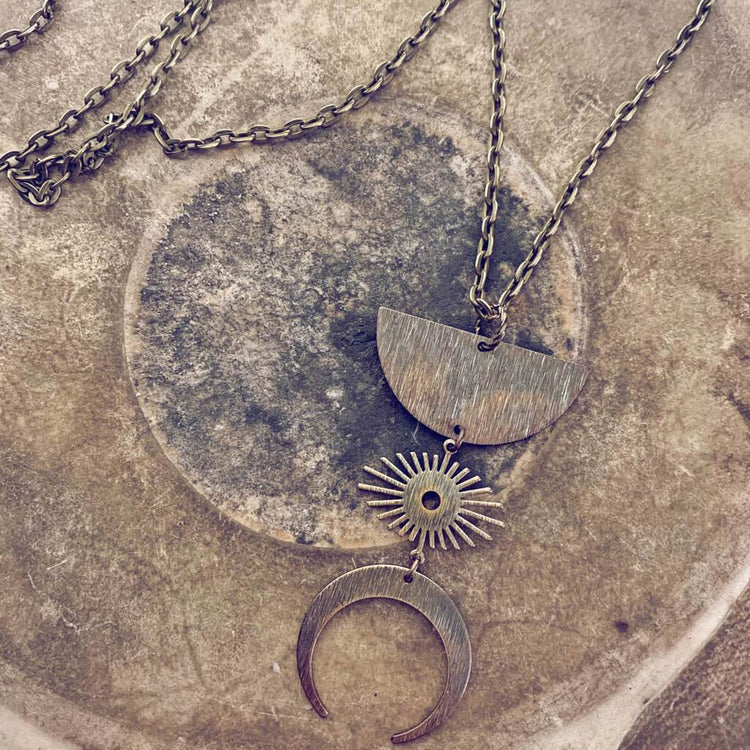 Product Details
Umbra ~ the name given to the shadow cast by a celestial object that entirely blocks out illumination. 🌑
This darkened antiqued brass boho necklace features a half moon, a sunburst & crescent moon pendant.

The entire pendant measures approx. 2-3/4" in length and is attached to a simple bronze 28" chain. It has a small lobster clasp for easy closure, but can also easily just slip over the head. 
Did you know? ...
During a lunar eclipse, the very darkest, inner part of the Earth's shadow is the umbra, while the lighter shadow at the edge is the penumbra.
"The Latin word umbra ("shade, shadow") has given English a range of words in addition to "umbra" itself. An umbrella can provide us with shade from the sun. So can an umbrageous tree. (In this case, umbrageous means "affording shade.") The connection to shade or shadow in other "umbra" words is less obvious. When we say someone takes "umbrage," we mean they take offense, but in times past people used the word as a synonym of "shade" or "shadow." The two senses of "umbrage" influenced "umbrageous," which can mean "inclined to take offense easily" as well as "affording shade." ~ merriam-webster.com